About Security Financial Services & Investment Corp.
In today's fast-paced environment we are faced with more personal options and more complex tax legislation. At Security Financial, our goal is to provide the best financial planning solutions for our client's personal and financial well-being. As a result we feel that the ability to give clients a choice of products and services, while maintaining objectivity and impartiality is the key to success.

We are dedicated to our clients' wealth management….
At Security Financial Services & Investment Corp. we take wealth building seriously.
As an independent financial planning firm our goal is to create well-designed financial plans prepared by knowledgeable, professional and skilled people who understand our clients' needs.
We have built and will continue to refine a system and a culture that brings a level of comfort to our clients, and to the people who work at Security Financial.
This philosophy has allowed us to establish strong and trusting client relationships. These values inspire everyone at Security Financial to help you accomplish your goals and dreams.
Trusted Knowledge & Experience
Security Financial Services & Investment Corp. has an established reputation within the financial services industry. Since its origins in 1978, the firm has been committed to helping clients meet their personal and financial goals with the highest of standards.
Today, Security Financial continues to help clients achieve their objectives by using a step-by-step process known as Financial Planning. Whether it's evaluating risk, maximizing your retirement savings, planning your estate or minimizing tax, having a professional financial plan can be beneficial, if not crucial, to your family's well-being today and into the future.
Flexibility – Responsive – Intuitive
Security Financial prides itself in offering a wide range of products with no links or ties to proprietary or "in-house" products. Freedom to choose from a vast selection of approaches, strategies, products and services customized to our clients' evolving needs is essential to their personal and financial security.
Our Strategic Alliances
As a firm, we combine our own skills and knowledge with the experience of the best professionals in the industry such as: estate lawyers, tax accountants and product specialists. We also provide an extensive array of products to fit every possible need a client may require to compliment their financial plan. These combined resources allow us to provide the highest level of expertise to our clients.
Managed by Leo Belmonte, CFP, FMA, FCSI, AMP, Chief Executive Officer.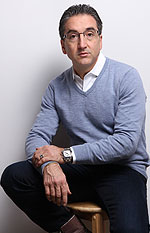 Leo Belmonte is Director and Senior Trading Officer of Security Financial Services & Investment Corp. Leo is a Certified Financial Planner (CFP), Financial Management Advisor (FMA), and Fellow of the Canadian Securities Institute (FCSI). After graduating with a Bachelor of Arts and a Post-Diploma in Mortgage Brokering, he entered the financial services industry with Investors Group in 1996.
During his six-year tenure, Leo held title as consultant, field trainer, new consultant training instructor, and Associate Regional Director. He was instrumental in building a satellite office into a multi consultant, stand-alone branch, with a strong presence in Southern Ontario.
Leo then progressed to an independent firm and improved upon his experience at a bank owned brokerage firm. Leo enjoys time with his family, traveling, and playing sports. He is a member of the Knights of Columbus, and the Catholic Businessman Network.